The autobiography of a Super tramp

I was born in Todmorden, West Yorkshire, England (U.F.O. centre of the U.K. ) in 1945 and grew up, rather sheltered from the big world, in the quite austere 1950s.

1950
I sang in the church choir and had piano lessons for a year at age nine. After hearing Monty Sunshine play Petite Fleur with Chris Barber's Jazz Band, I was inspired, and saved up for two years to buy a clarinet for 15 pounds when I was thirteen.
I soon began to appreciate modern jazz and bought a saxophone two years later. My inspirations then were Cannonball Adderley, Sonny Rollins, Miles Davis and Art Blakey.

The Premier Dance Band (1960)
When I left school I went to Birmingham to work as a computer programmer. There I played with various bands and groups including The Dicemen (we wore Beatle suits with trousers so tight we had to be lifted on to the stage) and Jugs O'Hen ry with whom I turned professional in 1965.

Jugs O'Henry (1965)
Jugs.. was short-lived, and, after putting an advertisement in the Melody Maker music weekly which read Have sax, will travel, I joined The Alan Bown Set with whom I spent six years. We made several albums, played thousands of gigs, and had the singers Jess Roden, Gordon Neville and Robert Palmer. Our music progressed (or regressed, depending on your point-of-view) from soul music to quite free jazzy rock, calling in on flower-power and psychedelia on the way.


The Alan Bown! (1967)
After the demise of The Alan Bown! (as it became) in 1971 I followed our bass player Dougie Thomson into The Twilight Rooms club in London to play non-stop music from 9pm to 3am for strippers and singers, and where the clientele would have to purchase vast quantities of Champagne for the hostesses. When I couldn't stand that any more, I moved to the Celebrity Club a much more up-market, sophisticated place. Still plenty of naked breasts though!
After touring with the bands of Jimmy Ruffin, Arthur Conley and Johnny Johnson in England, and also a spell in Germany with Pete Lancaster playing mostly U.S. air bases, I got a call from Dougie Thomson, who had joined Supertramp, asking me to come and play with them in August of 1973. I was intrigued with, and excited by the music, told a few good jokes, and stuck around (for 31 years so far!).

London 1974
We made the album Crime of the Century and began the long climb to international success, moving to California in the process.

Berlin 1977
Breakfast in America was the biggest seller in the world in 1979!

1983

1986
During a Supertramp hiatus in the nineties, I moved back to England to study at the Royal Northern College of Music in Manchester . However, a scholarly life was to take a back seat in 1996 when I worked with ex-Supertramper Roger Hodgson, and recorded and toured with Supertramp again. Our latest album Slow Motion and the It's About Time tour were in 2002.
There may be more to come from Supertramp, but right now I'm playing music based on my many inspirations, including jazz, funk, blues, soul and rock, with some of my favourite musicians. The group, John Helliwell's Creme Anglaise includes Mark Hart (vocals, guitar and keyboards) from Supertramp and Crowded House, Mike Walker (internationally acclaimed jazz guitarist) and the rocking Geth Griffith on double bass and bass guitar. On piano and drums respectively; Arthur Lea and Ben Bryant, two very talented young men, both having recently completed their degrees at London's Royal Academy of Music.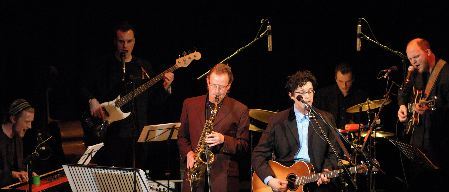 Creme Anglaise - April 2004
Have a listen to some excerpts of our music - if you like them half as much as we do, then we like them twice as much as you do! Come and see and hear us in a place near you!